16th November 2023
Fixing Tooth Imperfections with Dental Veneers
Have you ever felt self-conscious about your teeth? Maybe they're a bit chipped, discoloured, or uneven. Dental veneers may be the answer you're looking for.
Dental veneers are thin, custom-made shells designed to cover the front surface of teeth to enhance their appearance. They're like a magic wand for your smile, transforming various dental issues into a picture-perfect look.
In this post, The York Dental Suite will be exploring how veneers work, their benefits, and what you can expect from the procedure.
Whether you're considering veneers for cosmetic reasons or to correct dental problems, you're in the right place to learn more. Let's get started on your journey to a brighter, more confident smile!
How Do Dental Veneers Work?
The process of getting dental veneers at The York Dental Suite begins with a thorough consultation and planning stage. This is where we discuss your dental aspirations and assess your teeth and imperfections to determine if veneers are the best option for you. Personalising the treatment to your unique requirements is a key aspect of this initial step.
Once we decide to proceed, the next stage involves preparing your teeth. This preparation includes a gentle removal of a small amount of enamel from the front surface of your teeth. This step is crucial for ensuring that the veneers fit seamlessly and look as natural as possible. It's a minimal and painless procedure, designed with your comfort in mind.
After preparing your teeth, we take impressions, which are then sent to a dental lab. There, your custom veneers are meticulously crafted to fit perfectly and match the colour of your natural teeth. The final step is the application of your custom veneers.
During your next visit, we place the veneers on your teeth to ensure a perfect fit and appealing look, making any necessary adjustments. The veneers are then securely bonded to your teeth using a special adhesive and a light beam to harden this adhesive.
To complete the process, a follow-up visit is scheduled to monitor how your gums are responding to the veneers and to ensure your utmost comfort with your transformed smile.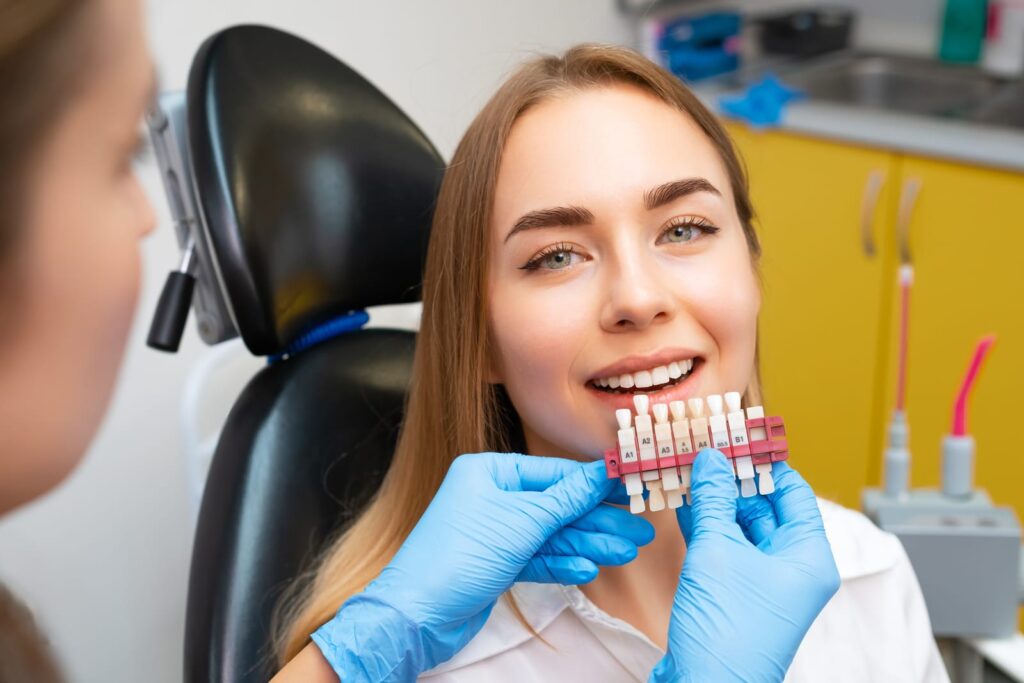 Why Do You Need Veneers?
Veneers aren't just a cosmetic fix; they're a path to renewed confidence and oral health. But why might you need them? Let's explore some common tooth imperfections that dental veneers can effectively fix.
· Chipped or Broken Teeth
Life happens, and sometimes it leaves a mark on our teeth. Whether it's a small chip or a more noticeable break, veneers can restore the natural look of your teeth, making any damage virtually disappear.
· Stains and Discolouration
While teeth whitening can help with surface stains, deeper discolouration might need a stronger solution. Veneers come in handy here, offering a bright, even colour that whitening alone can't achieve.
· Gaps and Misalignments
Small gaps or slightly crooked teeth can alter the harmony of your smile. Veneers can be shaped to close gaps and create a more uniform, straight appearance, offering an alternative to orthodontic treatments in some cases.
· Irregular Shaped Teeth
Not all teeth are perfectly shaped, and some might be naturally smaller or have an unusual shape. Veneers can provide a more uniform look, enhancing the overall aesthetics of your smile.
· Worn Down Teeth
Everyday activities like eating and even teeth grinding can wear down your teeth over time. Dental veneers can help restore their original length and shape, protecting them from further wear.
Are Dental Veneers Safe?
Dental veneers are not only effective but also safe for most patients. Here at our practice, we ensure that every step of the veneer process is carried out with the highest standards of dental care.
The procedure involves minimal alteration to your natural teeth and is generally pain-free. Veneers are made from biocompatible materials that pose no harm to your gums or the rest of your mouth.
Moreover, they provide a protective layer over your teeth. This often enhances not just the appearance but also the durability of your teeth. As with any dental procedure, we take all necessary precautions and tailor the treatment to suit your specific dental health and needs, ensuring a safe and satisfying outcome.
Is There Any Pain Involved?
Here at our practice, we prioritise your comfort, ensuring that the process of getting dental veneers is as pain-free as possible.
The procedure for applying veneers involves minimal discomfort, as it typically requires only a slight reshaping of your natural teeth. However, local anesthesia can be used during this stage to alleviate any potential discomfort.
How Long Will They Last?
The longevity of porcelain veneers largely depends on how well they are cared for, but generally, they can last anywhere from 10 to 15 years and sometimes even longer.
With proper oral cleanings, regular dental check-ups, and mindful habits like avoiding using your teeth as tools or biting down on very hard objects, your veneers can maintain their pristine condition for many years.
However, it's important to note that while veneers are strong and long-lasting, they may eventually need to be replaced due to normal wear and tear, just like any dental restoration.
Getting Your Dream Smile with Dental Veneers in York
At The York Dental Suite, we're committed to helping you achieve your dream smile with our expertly crafted dental veneers.
Our team of professionals is ready to guide you through every step of the process, ensuring a comfortable, personalised experience that caters to your specific needs.
If you're looking to enhance your smile and boost your confidence, don't hesitate to schedule an appointment with us. We're here to transform your smile with veneers that not only look stunning but feel natural, too.
Embrace the opportunity to smile brighter and bolder; contact The York Dental Suite today and take the first step towards the radiant smile you've always desired.