12th January 2023
The Definitive Guide To Porcelain Veneers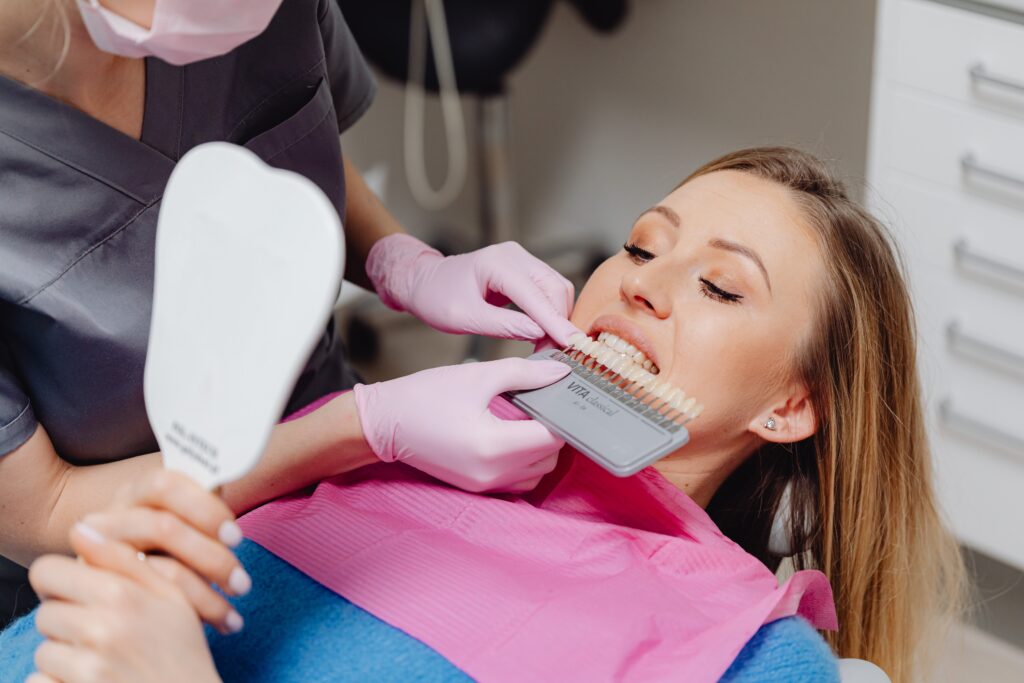 Important Things to Know About Porcelain Veneers Before Going for Them
Your smile plays a huge role in creating a great first impression. If you are thinking of getting porcelain veneers in York to fix your smile, there are a few things you should know beforehand.
More and more people today are turning to cosmetic dental treatments to find effective ways to improve their smiles and boost self-confidence. Veneers are one of the most cosmetic dental procedures that can help achieve a beautiful and confident smile.
They are thin shells bonded to the front of the teeth and can be used to address several cosmetic issues, such as chips, cracks, discolouration, or misalignment.
However, before getting porcelain veneers, it is important to understand the process, the potential risks, benefits, and the results that may be achieved.
Important Things to Know When Getting Porcelain Veneers
#1: Veneers have improved over the years
Thanks to advances in dental technology and materials, porcelain veneers have improved significantly over the years. Modern veneers are thinner and more durable than their predecessors. And they can be customised to match the shape and colour of your natural teeth.
Veneers are also more resistant to staining and discolouration than natural teeth, making them a great choice for those who want to maintain a bright, white smile.
#2: They are a cosmetic procedure
Porcelain veneers are primarily used for cosmetic purposes. They can help to correct a variety of issues, such as chips, cracks, discolouration, or misalignment. However, they are not meant to replace missing teeth or to treat cavities. Dental crowns or other treatments may be more appropriate for these issues.
#3: Requires more than one office visit
The procedure typically requires two or three office visits. During the first visit, our dentist will take an impression of your teeth and send it to a dental laboratory to custom-make the veneer that is right for you.
During the second visit, our dentist will bond the veneer to the front of your tooth using specialised dental cement. Occasionally, a third visit may be necessary if any adjustments need to be made.
Our dentist may also recommend that you have a follow-up visit after the procedure to ensure that the veneer is properly fitted and that you are satisfied with the results.
#4: The procedure is irreversible
The procedure is irreversible, as the tooth structure is altered before the placement of veneers. And once placed, removal of the veneer may further damage the tooth. This means that once you get veneers, they will be a permanent part of your teeth. So, it is important to be sure that you want to go through with the procedure before you begin.
#5: There are different types of porcelain veneers
Not all veneers are created equal. There are different types of porcelain veneers available, each with its own unique properties and benefits. The two most common types are traditional veneers and prepless veneers.
Traditional veneers require the removal of a small amount of tooth enamel before they can be placed. But prepless veneers, on the other hand, do not require any tooth reduction.
#6: Porcelain veneers can fix more than crooked teeth
Veneers are not just for straightening crooked teeth. They can also be used to fix other dental problems such as gaps between teeth, discoloured teeth, chipped teeth, etc. They can be customised to change the shape, size, and colour of your teeth. That makes them perfect for creating a more balanced and aesthetically pleasing smile.
#7: They cannot be whitened
Veneers are not susceptible to tooth whitening procedures. That means you need to choose the right shade of porcelain to match the desired colour of the teeth. Once in place, the colour of the veneers cannot be altered, so it's important to be sure you are happy with the colour before the procedure is performed.
#8: They are not required for the entire mouth
Veneers are usually applied to the front teeth that show when you smile. So it may be possible to only veneer some of the teeth and not the entire mouth. Schedule a quick consultation with us to determine which teeth need veneers, and how many will be necessary for your desired result.
#9: They can chip and crack
Porcelain veneers are durable and can last for many years, but they are not indestructible. They can chip or crack if you bite or chew on hard objects or if you grind your teeth. If a veneer becomes damaged, it will need to be repaired or replaced by a dentist. It's important to practice good oral hygiene and avoid habits that may put excessive force on them.
#10: Specific maintenance and upkeep may be needed for porcelain veneers
Veneers require special care and maintenance to ensure they last as long as possible. This includes avoiding stain-causing foods and drinks, practising good oral hygiene, and scheduling regular check-ups with your dentist. It's also important to avoid habits such as biting on hard objects or grinding your teeth.
#11: Results may vary
Every patient's mouth is unique, and each case requires different solutions, so results may vary from person to person. Also, it is important to have realistic expectations about the outcome of the procedure. And to discuss your goals with your dentist to ensure you understand what can realistically be achieved.
#12: Not everyone is a candidate for porcelain veneers
Veneers are not suitable for people with active dental problems or decay, such as periodontal disease or large fillings. In these cases, Dental Crowns may be more appropriate. It is also not recommended for people who grind or clench their teeth, as this can put excessive force on the veneers and cause them to chip or break.
Do you want to learn more about Porcelain Veneers and whether they are a fit for you?
Schedule a consultation with York Dental Suite by calling 01904 937 041 or filling out the contact form.