8th April 2023
What Is Composite Bonding?
What Is Composite Bonding; All That You Need to Know
Nothing dampens one's confidence like when you are less confident about your smile. A beautiful smile has a way of increasing confidence and helping you create a perfect first impression. Of course, that will leave a remarkable mark on both your social and professional life. 
If you have been dealing with imperfect, chipped, and misaligned teeth in York, perhaps you should try composite bonding. It is a versatile dental procedure that can fix various dental issues.
The procedure is quick, effective, and minimally invasive. If this sounds like what you would like to have, then let's show you what the procedure is and how it can help fix your smile. 
What Is Composite Bonding?
It is a minimally invasive cosmetic treatment that is often used to correct many dental issues. The treatment involves the application of tooth-coloured resins to the surface of your teeth to correct imperfections about the teeth.
The dental treatment is quick and really effective. It requires just a visit to your dentist to have your teeth bonded. That means you can walk out of the office with a brand-new smile. What more?
Compared to other dental procedures, bonding is also less expensive. You don't have to bore a hole in your wallet to achieve a straighter, whiter smile you would be proud to show.
Many people use this procedure today across all facets of life. You definitely know a couple of celebrities that have had composite bonding. Think of someone like Tom Cruise, Miley Cyrus, Morgan Freeman, Victoria Beckham, Nicolas Cage, and a lot more.
You probably think these celebs were born with their perfect, signature peers. No, they all had imperfections in their teeth, but bonding fixed them! Now, they have a beautiful smile that draws you in. 
What Are Some Benefits the Procedure Holds?
Getting your teeth bonded comes with a host of benefits. The most important among them is that it is minimally invasive and very effective for correcting various forms of imperfections in your smile. But that's not all. Below are some more reasons you might want to consider going for it:
It is quick and easy to achieve – you can have a beautiful smile in just one visit
It is minimally invasive and painless
A cost-effective option compared to other procedures like porcelain veneers
Produces a great result – it looks very natural on you
Works well for a wide range of issues
Easily repairable
You can eat any type of food – even on the very first day of getting your bonding
It doesn't affect your speech in any way
Who Can Get It?
Anyone that desires a perfect smile can go for the procedure – whether it be children, adolescents, or even senior citizens. It is a dental procedure designed to fix many dental issues. However, that doesn't mean it is perfect for all cases.
In some cases where the tooth is badly damaged, your dentist might recommend other procedures as a treatment. So, who is the right candidate for bonding? Here are some issues the treatment is perfect for:
Chipped teeth
Misshapen teeth
Gap between teeth
Crooked teeth
Broken or cracked teeth
Stained or discoloured teeth
Short or small teeth
What Is the Procedure for Getting Composite Bonding?
The treatment is both very easy and quick. You don't have to spend several months or visits to your doctor before you can have it. You can walk out of the office with a brand new smile in just one visit. To get bonding, this is what the procedure looks like.
At the visit to your dentist, they examine your case and determine if bonding is right for you. Remember, we said not everyone could go for the procedure. Once your dentist can confirm it can fix your imperfections, the treatment can start.
The first thing is that your dentist will carefully etch the affected tooth for easy bonding. A resin material that has the same colour as your teeth are then prepared and applied to the tooth. It is then hardened with a specialized blue light. 
After that, the bonded tooth is polished and shaped to make it look just like the rest of the teeth. And that's it. Once this step is completed, then you are ready to walk out with your new smile. It is painless, and you don't have to wait for a couple of weeks to see the result. The result is immediate!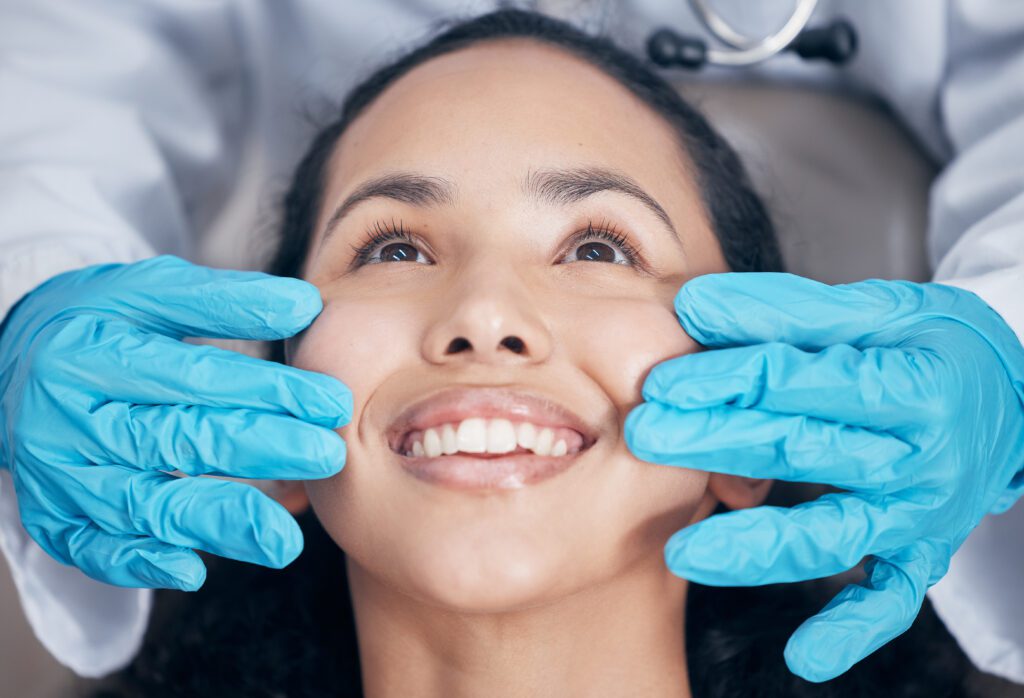 Is It the Same As Porcelain Veneers?
Perhaps you have heard about porcelain veneers before and wondering if it is the same procedure as bonding. Well, the two are not the same. Porcelain veneers are also tooth-like materials produced in the lab.
That means before you can get porcelain veneers, a portion of your teeth will first be shaved off and taken to the lab for model porcelain to be produced. But bonding doesn't require removing any portion of the teeth. 
Again, porcelain veneers require three trips to the dentist – one for consultation and two to make and apply the veneers. Because of that, veneers often take a longer time – about three weeks minimum to achieve. And that also makes the procedure more expensive. 
Is Bonding Painful?
This is one perk that most people love the most about the procedure. It is completely painless. Therefore, there is usually no need for anesthesia or any pain reliever except when the procedure is used for filling a cavity.
However, some people have recorded minor tooth sensitivity after having their teeth bonded. That's when your teeth become more sensitive to cold or heat. When this happens, you only need to get an over-the-counter pain reliever to make it go away.
Can the Bonding Be Removed Later In the Future?
Yes, the procedure is not permanent – it is completely reversible. That means if you decide to remove it in the future, you can easily do that. Remember, the resin material is only attached to the surface of your natural tooth; you can easily remove it without removing any part of the tooth. 
How Much Does It Cost to Get My Tooth Bonded?
As we mentioned earlier, the procedure is less expensive compared to some other dental procedures. However, the amount you will pay to get it depends on a variety of factors, including your location and your dentist.
Yes, the cost varies from dentist to dentist. However, the average cost of getting it done is between $200 and $500 per tooth.
Additionally, the procedure may not be covered by all insurance providers. It is often regarded as a cosmetic procedure. So it may be best you first check with your insurance provider to be sure if they cover such a procedure or not.
How Long Does Bonding Last?
We all want something that will remain with us long enough, and bonding does not disappoint in this regard too. Although the number of years it can remain with you depends on how you maintain it, it will typically last between 6 and 10 years.
So if you would want to enjoy your new smile long enough, you will need to take extra care of it after the procedure. And that will lead us to the next question; how to make your bonding last.
How Can You Make Your Bonding Last?
There is no special secret to making your bonding last. The key is proper maintenance. You will need to avoid some foods that can damage it, including hard foods like candy, nutshells, and ice cubes. At the same time, dark beverages like coffee and red wine can stain and discolour the resin, making it look different from the rest of your teeth. 
Another factor that determines how long your bonding will last is your dentist. When looking to get any of your teeth bonded, you will need to choose a good dentist. Maintain good oral hygiene and stop some habits such as clenching and grinding. 
Are There Any Disadvantages to Note?
Yes. As good as composite bonding looks, there are a few downsides you will need to consider before proceeding with the procedure. First is that it can be stained.
Yes, the resin material used for the bonding can become stained over time. So, if you are the type that loves a daily intake of coffee or other tooth-colouring foods, you might need to work on that desire before going for the treatment.
Another thing is that it is not as durable as some other dental procedures like crowns and veneers. It can be broken because it is not as hard as veneers. However, it is also easily repairable.
Final Words
You don't have to live with crooked or misshaped teeth for the rest of your life. You can use composite bonding to fix your imperfections and get yourself a beautiful smile you will like to show off. The procedure is quick and produces instant results.
It is minimally invasive and very affordable. So do something about your smile today. Start by scheduling a free consultation with us at The York Dental Suite to decide if it is the best treatment option for your specific case.
Call us now at 01904 937 041 or send us a message using our Contact Form to get started!